Create a Place Where Veterans Can Feel at Home
Program Sponsored By

Virtual Living Room®  is an FRS grant program that blends rural technology, U.S. Department of Veterans Affairs (VA) resources and local support to encourage veteran use of advanced medical technologies. Virtual Living Room saves veterans travel time and costs while enabling connections to skilled physicians and other providers in the VA medical system such as telehealth and other online resources.
Get started today and make a difference in your community. 
Why Establish a Virtual Living Room in Your Community?  

Programs such as the Virtual Living Room is what rural America is about—helping our communities and those who live there. The Virtual Living Room is intended to feel like home, offering a comfortable, safe space to help our veterans simulate the experience they would have while using VA telehealth services at home. By offering a Virtual Living Room in an accessible location, your telco assists the heroes of our nation who may not have the access to broadband services they need to get proper care.  
GET STARTED
Building a Virtual Living Room is not as difficult as it seems. These few easy steps will help you get started.
Step 1: Access your Community's Need
Assess your community's need. Are you located more than an hour away from a VA clinic or hospital? If yes, then you have a Virtual Living Room need to help your community veterans with accessible VA care. 
 
Step 2: Contact Your Local VA
Establish a relationship with your local VA and let them know of your telco's interest in providing a Virtual Living Room in your community.  Locate your VA:
More Resources: Once you've connected with your contact at the VA, here are some talking points to help you start the conversation. 
DOWNLOAD

Step 3: Locate a Venue
You can establish your Virtual Living Room anywhere.  Examples include: a Veterans of Foreign War lodge, American Legion, library, firehouse, church or community center.  Your space should be private, have adequate electrical connections to support a computer workstation, lamps and peripherals and have broadband provided by an NTCA member. (Privacy can be enhanced with the use of "white noise" machines; a sound-proof environment is recommended to support the privacy of users.)
Ideas

Step 4: Bring It All Together
Once you have a relationship with the VA established and your venue selected, a memorandum of understanding between the three entities: the NTCA member company, the VA and the venue must be signed.

Step 5: Apply for the FRS Virtual Living Room Grant Funding

Step 6: Share Your Story
Once established, the success of the Virtual Living Room will depend on its use by veterans. Toward this end, a coordinated effort among the host, NTCA member and VA partner to publicize the availability of the Virtual Living Room is important. Publicity can include media ads in the local market as well as printed material such as brochures that are made available at various locations in the relevant service area.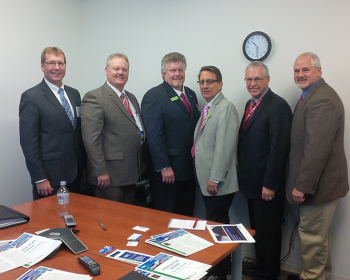 A Brief History of the Virtual Living Room

In 2014, several NTCA members met with the Veterans Administration Office of Rural Health to brainstorm strategies to address critical healthcare needs for veterans in rural areas. Over the next two years, NTCA, through the Smart Rural Community initiative, developed summits with the White House Rural Council to address rural needs. These gatherings brought together a wide range of private and public sector organizations with rural interests. As part of these meetings, a rural health care summit in 2016 reintroduced NTCA members to the VA.
Encouraged by the interest of senior leadership, NTCA worked with the VA and NTCA member Peoples Rural Telephone Cooperative (PRTC) to launch the pilot Virtual Living Room site in McKee, Kentucky. Supported through a Smart Rural Community grant, this undertaking provides critical access to VA telehealth and other online resources and is a shining example of community collaboration as PRTC, the VA and the Jackson County Public Library pooled resources to bring our vision to reality.
The Foundation for Rural Service, with the generous assistance of CoBank, is now proud to offer significant funding to support the establishment of more Virtual Living Rooms throughout the United States.  
Photo: NTCA members meet with VA Office of Rural Health Executive Director Dr. Thomas Klobucar in 2014.