Community Grant Program
Supporting Your Communities
The 2019 Community Grant Program applications period is closed. 2019 winners will be announced in late November.
As part of its ongoing commitment to rural communities across the country, FRS offers aid for communities served by NTCA members through its annual Community Grants Program. These grants are designed to provide support to a variety of local efforts to build and sustain a high quality of life in rural America.
Applications for these grants are accepted each spring ranging from $250 to $5,000. The grants awarded each December support a variety of projects concentrated in four major categories.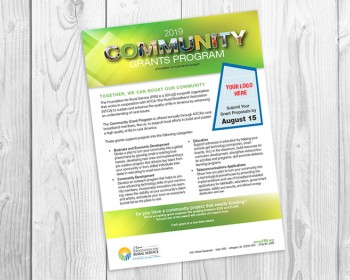 Together, We Can Boost Our Community
Submitting applications for the community grant is easy as 1...2...3...
Download the flyer, personalize it with your logo and contact information, your chosen deadline and distribute it within your community.  
Have your community members submit their proposals to you by your chosen deadline. 
Select the proposals your telco would like to back and submit your application through Member Central by September 13. 
Note: NTCA member companies will be responsible for a 10% match (i.e. if the applicant requests and wins a grant for $5,000, the NTCA member company is responsible for $500 and FRS is responsible for $4,500).
Invaluable Insight on the FRS Grant Program
Each year, the Foundation for Rural Service (FRS) gives back to rural communities through the grant program. In 2018, FRS awarded 12 grants for a total of nearly $50,000. Thank you to the 2018 sponsors who made the grant program possible: Ericsson, Inc., NISC, Womble Bond Dickinson, Mapcom Systems, Rural Telephone Finance Cooperative (RTFC) and Toly Digital. See how the grants open opportunities to rural communities.
GRANT CATEGORIES
Business and Economic Development


Devise a plan to turn your community into a global phenomenon by growing small or existing businesses, developing new ones and implementing a job creation program that attracts key talent from your community or from skilled individuals interested in relocating to small town America.

Community Development


Develop an outreach program that helps to promote advancing technology skills of your community members, incorporates innovation into learning, raises the visibility of your community's talent and artistry, and places your town on everyone's bucket list as the place to visit.

Education


Support advances in education by helping your schools get technology (computers, smart boards, etc.) in the classroom, build resources for curriculum development, strengthen extracurricular activities and programs, and promote distance learning programs.

Telecommunications Applications


Show how you plan to turn your community into a technological powerhouse by promoting the implementation and use of broadband-enabled applications for telehealth, education, government services, safety and security, and efficient energy distribution and use.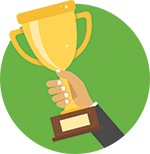 Congratulations to our 2018 Grant Winners!
These incredible communities each reflect the vision, service and innovation at the heart of rural America. Their winning projects help rural communities across the United States overcome an array of challenges, including access to technology, improving educational offerings, and providing telemedicine and first responder services to rural areas.
Congratulations to the winners and thank you to the generous sponsors who made these investments possible.
5 Loaves Food Pantry (Twin Lakes, TN)
Awarded $4,608 for basic technology classes and Wi-Fi access.
Endorsed by Twin Lakes Telephone Cooperative Corp.

Clifton Community Library (Cranberry Lake, NY)
Awarded $1,060 for the creation of a Wi-Fi hot-spot in Newton Falls.
Endorsed by SLIC Network Solutions.

Face to Face Recovery Organization (Jesup, GA)
Awarded $3,800 for a start-up distance learning GED education program within the Wayne County jail system.
Endorsed by ATC Broadband.

Family Resource Center (Lac Du Flambeau, WI)       
Awarded $4,950 for the creation of a sustainable telehealth program for the Luc Du Flambeau Indian Reservation and Community.
Endorsed by Price County Telephone Co.

Gervais High School (Gervais, OR)
Awarded $4,944 for the purchase of 12 Google Chromebooks, carrying cases and wall- mounted screens to enhance and further educational programming.
Endorsed by Gervais Telephone Co.

Greater West Central Public Library District (Augusta, IL)
Awarded $5,000 for the purchase of nine desktop computers and five iPads to be distributed throughout the library district's five locations.
Endorsed by Adams Telephone Cooperative.

Mercer County Ambulance Service (Hazen, ND)
Awarded $3,000 to upgrade their four laptops to provide better care to the 8,000 people they serve.
Endorsed by West River Telecom.
 

Moundridge Public Library (Moundridge, KS)
Awarded $3,942 to add three computers to its public computer work stations. This will give the library four computers, nearer to the state-recommended six for a library of its size.
Endorsed by Moundridge Communications Network.

Oakhurst Community College Outreach Center (OCCC) (Oakhurst, CA)
Awarded $5,000 to improve the center's distance learning opportunities by installing distance learning equipment for high school enrichment and dual enrollment classes. The new equipment will allow OCCC to link to distance learning programs at other community colleges.
Endorsed by Sierra Telephone.

Owsley County Action Team (Booneville, KY)
Awarded $5,000 to the Booneville Teleworks Hub. The Teleworks Hub helps train local residents in the hopes of finding them telework jobs with companies throughout the world.
Endorsed by Peoples Rural Telephone Co.
 

Screven County Community Collaborative Inc. (Sylvania, GA)
Awarded $5,000 for the purchase of tablets, hotspot equipment, laptops, and a smartboard to be used on its "Learning on Wheels" tech bus.
Endorsed by Planters Telephone Cooperative.
 

Toole County Health Foundation (Marias Medical Center) (Shelby, MT)
Awarded $3,600 for the purchase of a mobile telemedicine cart.
Endorsed by Three Rivers Communications.